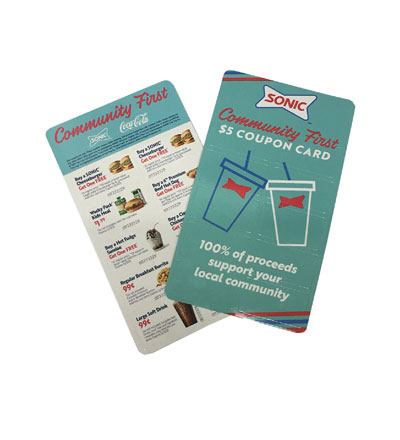 We will donate Sonic Community First Cards to your school or organization completely FREE. Each card is loaded with special deals at your local SONIC. Your organization must sell the value cards for $5 each and keeps 100% of the profits! There is no cost to your organization. Each card has over a $25 value in savings that you can use at any participating Sonic Drive-In.  Here are the offers: 
(2) Buy a Sonic Cheeseburger, Get One Free ($4.49)
Wacky Pack Meal- $1.99 (Regular Price- $3.49)
Buy a 6″ Premium Beef Hot Dog, Get One Free ($2.19)
Buy a Hot Fudge Sundae, Get One Free ($2.39)
Buy a Classic Chicken Sandwich, Get One Free ( $5.19)
(2) Regular Breakfast Burrito- $.99 (Regular Price- $2.99)
(2) Large Soft Drink- $.99 (Regular Price- $2.59)
We will provide a maximum of 100 cards per organization.  A representative from your organization will be required to pick up the cards at our Main Office on I-17/Cactus.  It takes approximately 2 weeks from the time you order the cards until they are ready for pick up. 
If your organization is interested in participating in this fundraiser, fill out the following
information: