SONIC FUNDRAISER NIGHTS WILL ONLY BE AVAILABLE TO ELEMENTARY SCHOOLS AND MIDDLE SCHOOLS WITH PARENT ORGANIZATION SUPPORT. 
Join us at your local Sonic Drive-In on any TUESDAY or WEDNESDAY ONLY from 5pm-8pm and Sonic will give back 40% of the sales from your guests during that time to your school.   
TO MAKE YOUR EVENT EXTRA SUCCESSFUL, WE HAVE THE FOLLOWING OPTIONS:
Host a Hot Dog Eating Contest and/or a Slush Drinking Contest- This is TONS of fun for students and staff!  Select 2 staff and/or students to participate in 1 or both contests. Complimentary hot dogs, slushes and PRIZES will be provided by SONIC for your contestants and for the winners!
Sell Sonic Community First Cards during your event-  Sonic will provide up tp 100 cards to your group.  These are a value card with deep discount coupons with a savings of over $25. Students/Staff can simply walk up to guests (BEFORE they order) and offer to sell the card for $5.  Then, the guest is able to use the card on their purchase.  Your school keeps 100% of what they sell.
BUT WAIT, THERE IS MORE…
If your school earns $300 to $499 at your Sonic Fundraiser Night,
we will provide a Raffle Basket valued at around $50.
 BUT…
if your school earns $500 or more at your Sonic Fundraiser Night,
we will INCREASE the value of the Raffle Basket to $100!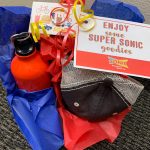 Step: 1  Do you represent an Elementary School?  Or a Middle School with a Parent Association to support the event?    If yes, go to Step 2.  If not, the Sonic Community First Card Fundraiser would be best suited for you!  Click here to learn more.)
Step 2: Determine 3 dates (Tuesdays or Wednesdays ONLY) that are 3 weeks away from today that would work for you along with the desired Sonic location for your event.
Step 3: Fill out this form, agree to the terms and submit the form.
Step 4: Sonic's Marketing Director will be in touch to confirm your details. 
PLEASE FILL OUT 1 FORM PER EVENT.  IF YOU WANT TO SCHEDULE 1 EVENT IN THE FALL AND 1 IN THE SPRING, PLEASE FILL OUT 2 SEPARATE FORMS.