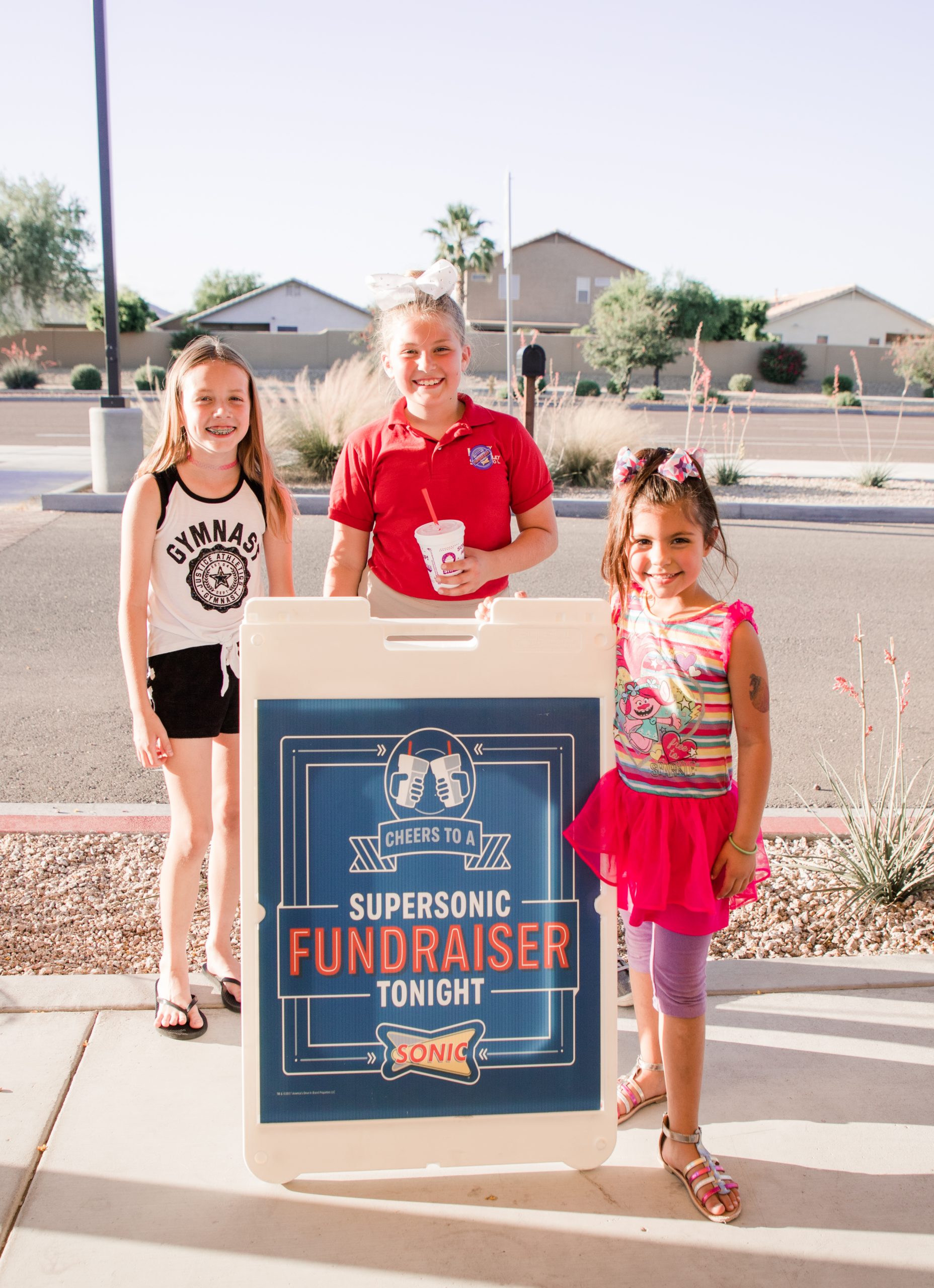 Join us at your local Sonic Drive-In on any TUESDAY or WEDNESDAY from 5pm-8pm and Sonic will donate 40% of the sales from the flyers that are shown by your guests (before tax) during that time to your school.   **Your supporters MUST present Sonic Fundraising Night flyer (via paper or digital) at the time of the order to be counted toward fundraising efforts. As a partner for this event, schools must agree to fully promote the event to every student and parent by listing it on the school calendar, placing it on the marque, communicating via email or school newsletter and providing flyers to all students and staff the day of the event.   Distribution of flyers at any Sonic location is prohibited. 
TO MAKE YOUR EVENT EXTRA SUCCESSFUL, WE HAVE THE FOLLOWING OPTIONS:
Host a Hot Dog Eating Contest and/or a Slush Drinking Contest- This is TONS of fun for students and staff!  Select 2 staff and/or students to participate in each contest. Complimentary hot dogs, slushes and PRIZES will be provided by SONIC for your contestants and for the winners! It is best to select the participants in advance, set a time when each contest will be held and PROMOTE the contests prior to the event. For example, "Join us a 5:30pm as Mr. Thompson and Coach Sanders go head to head in a Hot Dog Eating Contest!"  By adding this to your promotions, it will GREATLY increase the participation in your event. **PLEASE NOTE: School Representative will be responsible for facilitating the contest and asking Sonic Manager for hot dogs/slushes and prizes when ready.
Sell Sonic Community First Cards during your event-  Sonic will provide 100 cards to your group.  These are a value card with deep discount coupons with a savings of over $25.  Make sure you have a School Representative prepared to help organize selling the Community First Cards.  In addition, this will require students and staff to be present at the event to sell the cards.  Students/Staff can simply walk up to guests (BEFORE they order) and offer to sell the card for $5.  Then, the guest is able to use the card on their purchase.  Your school keeps 100% of what they sell.  We just ask that you return any unsold cards to the store when the event is over.   (I will drop off at the school 1-2 days before the event)
Step: 1  Do you represent an Elementary School?  Or a Middle School with a Parent Association to support the event?  Or a High School Large Group such as Football, Band, Spiritline, STUCO or STUGO?  If yes, go to Step 2.  If not, the Sonic Community First Card Fundraiser would be best suited for you!  Click here to learn more.)  If you feel you have a large group that has the ability and resources to bring in at least 50 guests to attend the event, please email jeni.barbush@sonicpartnernet.com.
Step 2: Determine 3 dates (Tuesdays or Wednesdays ONLY) that are 3 weeks away from today that would work for you along with the desired Sonic location for your event.
Step 3: Fill out this form, agree to the terms and submit the form.
Step 4: Sonic's Marketing Director will be in touch to confirm your details. 
PLEASE FILL OUT 1 FORM PER EVENT.  IF YOU WANT TO SCHEDULE 1 EVENT IN THE FALL AND 1 IN THE SPRING, PLEASE FILL OUT 2 SEPARATE FORMS.